Thank you for your visit today to The Circumlocution Office. At the Circumlocution Office we look at the life and times of one of history's great writers, Charles Dickens who lived from 1812 – 1870.
Charles Dickens
Charles Dickens was an English writer and social critic. He is regarded as one of the greatest novelist of the Victorian period and the creator of some of the world's most memorable fictional characters, such as:
Fagin, the leader of the gang of child thieves who teach Oliver Twist how to pick pockets; Ebenezer Scrooge, the miserly focal character of A Christmas Carol; Wilkins Micawber, the feckless, struggling but charming and eternally optimistic man who works with the greedy Uriah Heep in David Copperfield and  Samuel Pickwick, the retired businessman and founder of the Pickwick Club who embarks on a series of adventures with friends Snodgrass, Tupman, Winkle and servant Sam Weller.
Modern influence
Even though he was a writer from the Victorian era, Dickens's work transcends his time, language and culture. To this day, his work continue to inspire popular culture, including television, film, art and literature and he remains a massive contemporary influence throughout the world.
Discover Dickens works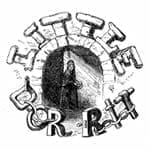 At the Circumlocution Office we aim to publish not only all of Dickens novels but lots of information about the times, characters and places involved.  You can discover our first of these by reading about Little Dorrit and discovering the story.
Click here to enter the Little Dorrit mini-site.