Background.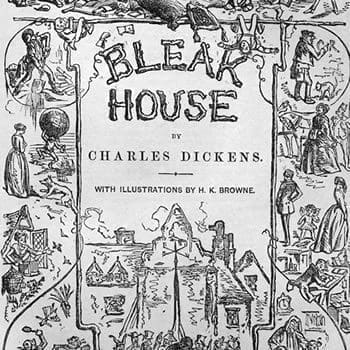 "He appeared to enjoy beyond everything the sound of his own voice." is a quotation from Bleak House (Chapter 3).

Bleak House was the ninth novel by Charles Dickens, intended to illustrate the evils caused by long, drawn-out legal cases in the Court of Chancery.
Context.
Description of Mr. Kenge.
Kenge is a senior partner in the legal firm of Kenge and Carboy. Kenge is John Jarndyce's lawyer who works tirelessly on the long-running legal dispute, Jarndyce and Jarndyce.
Taken from the following passage in Chapter 3 of Bleak House:
"Well!" said Mr. Kenge. "Upon the whole, very proper. Now to the point," addressing me. "Miss Barbary, your sole relation (in fact that is, for I am bound to observe that in law you had none) being deceased and it naturally not being to be expected that Mrs. Rachael—"

"Oh, dear no!" said Mrs. Rachael quickly.

"Quite so," assented Mr. Kenge; "—that Mrs. Rachael should charge herself with your maintenance and support (I beg you won't distress yourself), you are in a position to receive the renewal of an offer which I was instructed to make to Miss Barbary some two years ago and which, though rejected then, was understood to be renewable under the lamentable circumstances that have since occurred. Now, if I avow that I represent, in Jarndyce and Jarndyce and otherwise, a highly humane, but at the same time singular, man, shall I compromise myself by any stretch of my professional caution?" said Mr. Kenge, leaning back in his chair again and looking calmly at us both.

He appeared to enjoy beyond everything the sound of his own voice. I couldn't wonder at that, for it was mellow and full and gave great importance to every word he uttered. He listened to himself with obvious satisfaction and sometimes gently beat time to his own music with his head or rounded a sentence with his hand. I was very much impressed by him—even then, before I knew that he formed himself on the model of a great lord who was his client and that he was generally called Conversation Kenge.
Have Your Say.
Give your view on "He appeared to enjoy beyond everything the sound of his own voice." with a rating and help us compile the very best Charles Dickens quotations.
Related.
If you like this, we think you might also be interested in these related quotations: