Background.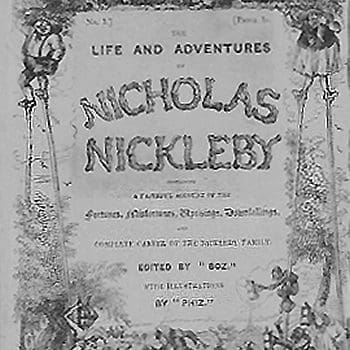 "Bring in the bottled lightning, a clean tumbler, and a corkscrew." is a quotation from Nicholas Nickleby (Chapter 49).
The Life and Adventures of Nicholas Nickleby, more commonly referred to as Nicholas Nickleby, is the third novel by Charles Dickens, originally serialised between 1838 and 1839.
Context.
Quotation said by the old 'gentleman in small-clothes', an eccentric neighbour of Mrs. Nickleby who is attempting to climb down the chimney. Having been stopped, he demands some very strong alcohol, referred to as 'bottled lightning'.
Taken from the following passage in Chapter 49 of Nicholas Nickleby:
Frank Cheeryble and Tim Linkinwater looked, in irrepressible astonishment, first at each other and then at Kate, who felt that some explanation was necessary, but who, between her terror at the apparition of the legs, her fear lest their owner should be smothered, and her anxiety to give the least ridiculous solution of the mystery that it was capable of bearing, was quite unable to utter a single word.

'He gives me great pain,' continued Mrs. Nickleby, drying her eyes, 'great pain; but don't hurt a hair of his head, I beg. On no account hurt a hair of his head.'

It would not, under existing circumstances, have been quite so easy to hurt a hair of the gentleman's head as Mrs. Nickleby seemed to imagine, inasmuch as that part of his person was some feet up the chimney, which was by no means a wide one. But, as all this time he had never left off singing about the bankruptcy of the beautiful maid in respect of truth, and now began not only to croak very feebly, but to kick with great violence as if respiration became a task of difficulty, Frank Cheeryble, without further hesitation, pulled at the shorts and worsteds with such heartiness as to bring him floundering into the room with greater precipitation than he had quite calculated upon.

'Oh! yes, yes,' said Kate, directly the whole figure of this singular visitor appeared in this abrupt manner. 'I know who it is. Pray don't be rough with him. Is he hurt? I hope not. Oh, pray see if he is hurt.'

'He is not, I assure you,' replied Frank, handling the object of his surprise, after this appeal, with sudden tenderness and respect. 'He is not hurt in the least.'

'Don't let him come any nearer,' said Kate, retiring as far as she could.

'Oh, no, he shall not,' rejoined Frank. 'You see I have him secure here. But may I ask you what this means, and whether you expected this old gentleman?'

'Oh, no,' said Kate, 'of course not; but he—mama does not think so, I believe—but he is a mad gentleman who has escaped from the next house, and must have found an opportunity of secreting himself here.'

'Kate,' interposed Mrs. Nickleby with severe dignity, 'I am surprised at you.'

'Dear mama,' Kate gently remonstrated.

'I am surprised at you,' repeated Mrs. Nickleby; 'upon my word, Kate, I am quite astonished that you should join the persecutors of this unfortunate gentleman, when you know very well that they have the basest designs upon his property, and that that is the whole secret of it. It would be much kinder of you, Kate, to ask Mr. Linkinwater or Mr. Cheeryble to interfere in his behalf, and see him righted. You ought not to allow your feelings to influence you; it's not right, very far from it. What should my feelings be, do you suppose? If anybody ought to be indignant, who is it? I, of course, and very properly so. Still, at the same time, I wouldn't commit such an injustice for the world. No,' continued Mrs. Nickleby, drawing herself up, and looking another way with a kind of bashful stateliness; 'this gentleman will understand me when I tell him that I repeat the answer I gave him the other day; that I always will repeat it, though I do believe him to be sincere when I find him placing himself in such dreadful situations on my account; and that I request him to have the goodness to go away directly, or it will be impossible to keep his behaviour a secret from my son Nicholas. I am obliged to him, very much obliged to him, but I cannot listen to his addresses for a moment. It's quite impossible.'

While this address was in course of delivery, the old gentleman, with his nose and cheeks embellished with large patches of soot, sat upon the ground with his arms folded, eyeing the spectators in profound silence, and with a very majestic demeanour. He did not appear to take the smallest notice of what Mrs. Nickleby said, but when she ceased to speak he honoured her with a long stare, and inquired if she had quite finished.

'I have nothing more to say,' replied that lady modestly. 'I really cannot say anything more.'

'Very good,' said the old gentleman, raising his voice, 'then bring in the bottled lightning, a clean tumbler, and a corkscrew.'

Nobody executing this order, the old gentleman, after a short pause, raised his voice again and demanded a thunder sandwich. This article not being forthcoming either, he requested to be served with a fricassee of boot-tops and goldfish sauce, and then laughing heartily, gratified his hearers with a very long, very loud, and most melodious bellow.
Have Your Say.
Give your view on "Bring in the bottled lightning, a clean tumbler, and a corkscrew." with a rating and help us compile the very best Charles Dickens quotations.
Related.
If you like this, we think you might also be interested in these related quotations: