Background.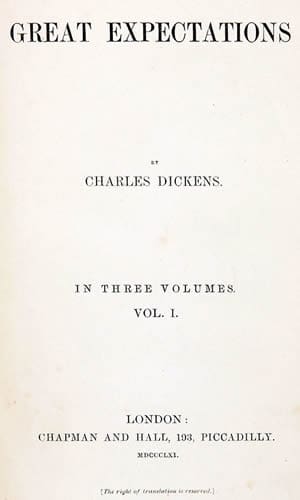 "You may be certain that I laugh because they fail." is a quotation from Great Expectations (Chapter 33).
Great Expectations is Charles Dickens's thirteenth novel first published between 1860 and 1861.
Context.
Quotation said by the character Estella who is talking to Pip.
Estella shows her heartless attitude towards people, here explaining to Pip how she laughed at the misfortunes of visitors who came to see Miss Havisham.
Taken from the following passage in Chapter 33 of Great Expectations:
"Where did you learn how I speak of others? Come, come," said Estella, smiling delightfully, "you must not expect me to go to school to you; I must talk in my own way. How do you thrive with Mr. Pocket?"

"I live quite pleasantly there; at least—" It appeared to me that I was losing a chance.

"At least?" repeated Estella.

"As pleasantly as I could anywhere, away from you."

"You silly boy," said Estella, quite composedly, "how can you talk such nonsense? Your friend Mr. Matthew, I believe, is superior to the rest of his family?"

"Very superior indeed. He is nobody's enemy—" —"Don't add but his own," interposed Estella, "for I hate that class of man. But he really is disinterested, and above small jealousy and spite, I have heard?"

"I am sure I have every reason to say so."

"You have not every reason to say so of the rest of his people," said Estella, nodding at me with an expression of face that was at once grave and rallying, "for they beset Miss Havisham with reports and insinuations to your disadvantage. They watch you, misrepresent you, write letters about you (anonymous sometimes), and you are the torment and the occupation of their lives. You can scarcely realize to yourself the hatred those people feel for you."

"They do me no harm, I hope?"

Instead of answering, Estella burst out laughing. This was very singular to me, and I looked at her in considerable perplexity. When she left off—and she had not laughed languidly, but with real enjoyment—I said, in my diffident way with her,—

"I hope I may suppose that you would not be amused if they did me any harm."

"No, no you may be sure of that," said Estella. "You may be certain that I laugh because they fail. O, those people with Miss Havisham, and the tortures they undergo!" She laughed again, and even now when she had told me why, her laughter was very singular to me, for I could not doubt its being genuine, and yet it seemed too much for the occasion. I thought there must really be something more here than I knew; she saw the thought in my mind, and answered it.
Have Your Say.
Give your view on "You may be certain that I laugh because they fail." with a rating and help us compile the very best Charles Dickens quotations.
Related.
Click here to see more quotes related to the character Estella.
If you like this, we think you might also be interested in these related quotations: