Background.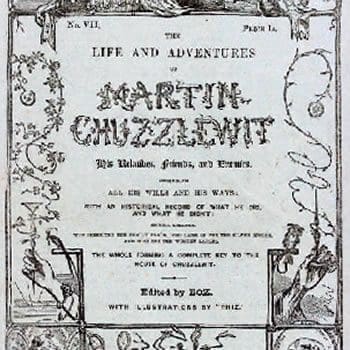 "Charity begins at home, and justice begins next door." is a quotation from Martin Chuzzlewit (Chapter 27).
Martin Chuzzlewit was the sixth novel by Charles Dickens originally published between 1843 and 1844.
Context.
Quotation said by the character Montague Tigg, speaking to Jonas Chuzzlewit.
In this quotation, the corrupt and selfish Tigg uses an existing English phrase  – charity begins at home – suggesting to Chuzzlewit that it is acceptable to look after yourself financially before others but by adding the second part – and justice begins next door – implies the law is impervious to his illicit ways of earning.
Taken from the following passage in Chapter 27 of Martin Chuzzlewit:
'I can tell you,' said Tigg in his ear, 'how many of 'em will buy annuities, effect insurances, bring us their money in a hundred shapes and ways, force it upon us, trust us as if we were the Mint; yet know no more about us than you do of that crossing-sweeper at the corner. Not so much. Ha, ha!'

Jonas gradually broke into a smile.

'Yah!' said Montague, giving him a pleasant thrust in the breast; 'you're too deep for us, you dog, or I wouldn't have told you. Dine with me to-morrow, in Pall Mall!'

'I will' said Jonas.

'Done!' cried Montague. 'Wait a bit. Take these papers with you and look 'em over. See,' he said, snatching some printed forms from the table. 'B is a little tradesman, clerk, parson, artist, author, any common thing you like.'

'Yes,' said Jonas, looking greedily over his shoulder. 'Well!'

'B wants a loan. Say fifty or a hundred pound; perhaps more; no matter. B proposes self and two securities. B is accepted. Two securities give a bond. B assures his own life for double the amount, and brings two friends' lives also—just to patronize the office. Ha ha, ha! Is that a good notion?'

'Ecod, that's a capital notion!' cried Jonas. 'But does he really do it?'

'Do it!' repeated the chairman. 'B's hard up, my good fellow, and will do anything. Don't you see? It's my idea.'

'It does you honour. I'm blest if it don't,' said Jonas.

'I think it does,' replied the chairman, 'and I'm proud to hear you say so. B pays the highest lawful interest—'

'That an't much,' interrupted Jonas.

'Right! quite right!' retorted Tigg. 'And hard it is upon the part of the law that it should be so confoundedly down upon us unfortunate victims; when it takes such amazing good interest for itself from all its clients. But charity begins at home, and justice begins next door. Well! The law being hard upon us, we're not exactly soft upon B; for besides charging B the regular interest, we get B's premium, and B's friends' premiums, and we charge B for the bond, and, whether we accept him or not, we charge B for "inquiries" (we keep a man, at a pound a week, to make 'em), and we charge B a trifle for the secretary; and in short, my good fellow, we stick it into B, up hill and down dale, and make a devilish comfortable little property out of him. Ha, ha, ha! I drive B, in point of fact,' said Tigg, pointing to the cabriolet, 'and a thoroughbred horse he is. Ha, ha, ha!'

Jonas enjoyed this joke very much indeed. It was quite in his peculiar vein of humour.
Montague Tigg.
Montague Tigg is a down-on-his-luck rogue at the beginning of the novel Martin Chuzzlewit, and a hanger-on to distant Chuzzlewit kin Chevy Slyme. Later, he starts a thriving, sleazy insurance business, The Anglo-Bengalee Disinterested Loan and Life Assurance Company and reverses his name to the more respectable sounding Tigg Montague. The company is essentially a 'ponzi scheme', a fraudulent investment operation which pays off early policyholders' claims with premiums from more recent policyholders. Tigg manages to lure Jonas Chuzzlewit into joining his business.
Have Your Say.
Give your view on "Charity begins at home, and justice begins next door." with a rating and help us compile the very best Charles Dickens quotations.
Related.
Click here to see our collection of quotations related to the character of Montague Tigg.
If you like this, we think you might also be interested in these related quotations: