Background.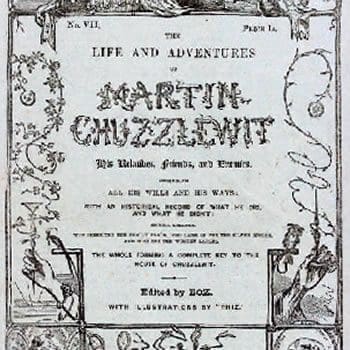 "It's a good damp, wormy sort of business." is a quotation from Martin Chuzzlewit (Chapter 5).
Martin Chuzzlewit is the sixth novel by Charles Dickens originally published between 1843 and 1844.
Context.
Tom Pinch is taking the horse and cart to Salisbury when he meets Mark Tapley along the road and offers him a lift. The two engage in conversation and Mark reveals he wants to leave his work at the Blue Dragon Inn. This quote is Mark giving an optimistic view of a future career as a grave-digger.
Taken from the following passage in Chapter 5 of the novel Martin Chuzzlewit:
'Does Mrs Lupin know you are going to leave her?' Mr Pinch inquired.

'I haven't broke it to her yet, sir, but I must. I'm looking out this morning for something new and suitable,' he said, nodding towards the city.

'What kind of thing now?' Mr Pinch demanded.

'I was thinking,' Mark replied, 'of something in the grave-digging. way.'

'Good gracious, Mark?' cried Mr Pinch.

'It's a good damp, wormy sort of business, sir,' said Mark, shaking his head argumentatively, 'and there might be some credit in being jolly, with one's mind in that pursuit, unless grave-diggers is usually given that way; which would be a drawback. You don't happen to know how that is in general, do you, sir?'

'No,' said Mr Pinch, 'I don't indeed. I never thought upon the subject.'

'In case of that not turning out as well as one could wish, you know,' said Mark, musing again, 'there's other businesses. Undertaking now. That's gloomy. There might be credit to be gained there. A broker's man in a poor neighbourhood wouldn't be bad perhaps. A jailor sees a deal of misery. A doctor's man is in the very midst of murder. A bailiff's an't a lively office nat'rally. Even a tax-gatherer must find his feelings rather worked upon, at times. There's lots of trades in which I should have an opportunity, I think.'
Have Your Say.
Give your view on "It's a good damp, wormy sort of business." with a rating and help us compile the very best Charles Dickens quotations.
Related.
If you like this, we think you might also be interested in these related quotations: