Background.
"Hailing the boy in a stentorian voice, as if he were half-a-mile off instead of two yards" is a quotation from Dombey and Son (Chapter 23).
Context.
Quotation said by the character Captain Edward Cuttle.
Stentorian is defined by the
Oxford English Dictionary as "Of the voice: Loud, like that of Stentor; very loud and far-reaching; hence, of uttered sounds, song, laughter and the like."
In Chapter 23 of Dombey and Son Florence Dombey is worried about the lack of news from the ship carrying Walter Gay. Concerned about his whereabouts she goes to visit his uncle Solomon (Sol) Gills. Gills is anxious and gets advice from his seafaring friend Captain Cuttle who seeks a second opinion from his friend Jack Bunsby.
Source.
Taken from the following passage in Chapter 23 (Florence solitary, and the Midshipman mysterious) of Dombey and Son:
Arrived at the wharf off which this great commander's ship was jammed in among some five hundred companions, whose tangled rigging looked like monstrous cobwebs half swept down, Captain Cuttle appeared at the coach-window, and invited Florence and Miss Nipper to accompany him on board; observing that Bunsby was to the last degree soft-hearted in respect of ladies, and that nothing would so much tend to bring his expansive intellect into a state of harmony as their presentation to the Cautious Clara.

Florence readily consented; and the Captain, taking her little hand in his prodigious palm, led her, with a mixed expression of patronage, paternity, pride, and ceremony, that was pleasant to see, over several very dirty decks, until, coming to the Clara, they found that cautious craft (which lay outside the tier) with her gangway removed, and half-a-dozen feet of river interposed between herself and her nearest neighbour. It appeared, from Captain Cuttle's explanation, that the great Bunsby, like himself, was cruelly treated by his landlady, and that when her usage of him for the time being was so hard that he could bear it no longer, he set this gulf between them as a last resource.

'Clara a-hoy!' cried the Captain, putting a hand to each side of his mouth.

'A-hoy!' cried a boy, like the Captain's echo, tumbling up from below.

'Bunsby aboard?' cried the Captain, hailing the boy in a stentorian voice, as if he were half-a-mile off instead of two yards.

'Ay, ay!' cried the boy, in the same tone.
Have Your Say.
Give your view on "Hailing the boy in a stentorian voice, as if he were half-a-mile off instead of two yards" with a rating and help us compile the very best Charles Dickens quotations.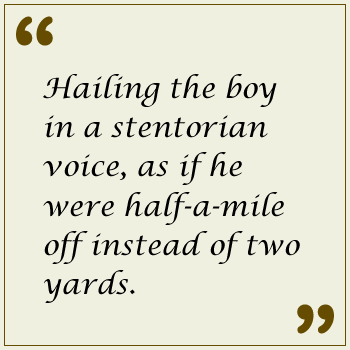 Related.
If you like this, we think you might also be interested in these related quotations:
Discover more.
---