Background.
"I am chained to my old life. I loathe and hate it now, but I cannot leave it" is a quotation from Oliver Twist (Chapter 46).
Context.
Quotation said by the character Nancy, the abused partner of Bill Sikes.
In Chapter 46 of Mr. Brownlow and Rose Maylie meet Nancy at London Bridge seeking information about Monks. Nancy tells them where they might find him. Fearing for her safety, Brownlow and Rose offer to help Nancy escape abroad or give her money. Nancy refuses, saying she is chained to my old life.
Character Profile: Nancy.
A young prostitute and one of Fagin's former child pickpockets. Nancy is also Bill Sikes's lover. Her love for Sikes and her sense of moral decency come into conflict when Sikes abuses Oliver. Despite her criminal lifestyle, she is among the noblest characters in the novel. In effect, she gives her life for Oliver when Sikes murders her for revealing Monks's plots.
Source.
Taken from the following passage in Chapter 46 of Oliver Twist:
'You put yourself beyond its pale,' said the gentleman. 'The past has been a dreary waste with you, of youthful energies mis-spent, and such priceless treasures lavished, as the Creator bestows but once and never grants again, but, for the future, you may hope. I do not say that it is in our power to offer you peace of heart and mind, for that must come as you seek it; but a quiet asylum, either in England, or, if you fear to remain here, in some foreign country, it is not only within the compass of our ability but our most anxious wish to secure you. Before the dawn of morning, before this river wakes to the first glimpse of day-light, you shall be placed as entirely beyond the reach of your former associates, and leave as utter an absence of all trace behind you, as if you were to disappear from the earth this moment. Come! I would not have you go back to exchange one word with any old companion, or take one look at any old haunt, or breathe the very air which is pestilence and death to you. Quit them all, while there is time and opportunity!'

'She will be persuaded now,' cried the young lady. 'She hesitates, I am sure.'

'I fear not, my dear,' said the gentleman.

'No sir, I do not,' replied the girl, after a short struggle. 'I am chained to my old life. I loathe and hate it now, but I cannot leave it. I must have gone too far to turn back,—and yet I don't know, for if you had spoken to me so, some time ago, I should have laughed it off. But,' she said, looking hastily round, 'this fear comes over me again. I must go home.'

'Home!' repeated the young lady, with great stress upon the word.

'Home, lady,' rejoined the girl. 'To such a home as I have raised for myself with the work of my whole life. Let us part. I shall be watched or seen. Go! Go! If I have done you any service all I ask is, that you leave me, and let me go my way alone.'

'It is useless,' said the gentleman, with a sigh. 'We compromise her safety, perhaps, by staying here. We may have detained her longer than she expected already.'

'Yes, yes,' urged the girl. 'You have.'

'What,' cried the young lady, 'can be the end of this poor creature's life!'

'What!' repeated the girl. 'Look before you, lady. Look at that dark water. How many times do you read of such as I who spring into the tide, and leave no living thing, to care for, or bewail them. It may be years hence, or it may be only months, but I shall come to that at last.'

'Do not speak thus, pray,' returned the young lady, sobbing.

'It will never reach your ears, dear lady, and God forbid such horrors should!' replied the girl. 'Good-night, good-night!'
Have Your Say.
Give your view on "I am chained to my old life. I loathe and hate it now, but I cannot leave it" with a rating and help us compile the very best Charles Dickens quotations.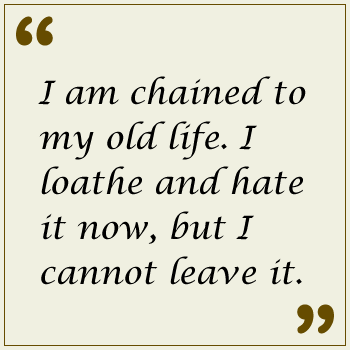 Related.
If you like this, we think you might also be interested in these related quotations:
Discover more.
---