Background.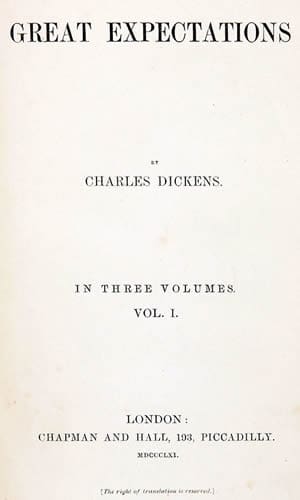 "If you can't get to be oncommon through going straight, you'll never get to do it through going crooked" is a quotation from Great Expectations (Chapter 9).
Great Expectations is Charles Dickens's thirteenth novel first published between 1860 and 1861.
Context.
Quotation said by Joe Gargery, who is talking to Pip.
Pip has returned from visiting Miss Havisham at Satis House and recounted his day their earlier in the day, inventing a story that he was treated well, playing games and being fed with cake. Later on, when he is alone with Joe in the forge, he tells the truth and recalls how Estella treated him with disdain for bring 'common'. Joe advises him to stay with friends from his own class.
Taken from the following passage in Chapter 9 of Great Expectations:
"There's one thing you may be sure of, Pip," said Joe, after some rumination, "namely, that lies is lies. Howsever they come, they didn't ought to come, and they come from the father of lies, and work round to the same. Don't you tell no more of 'em, Pip. That ain't the way to get out of being common, old chap. And as to being common, I don't make it out at all clear. You are oncommon in some things. You're oncommon small. Likewise you're a oncommon scholar."

"No, I am ignorant and backward, Joe."

"Why, see what a letter you wrote last night! Wrote in print even! I've seen letters—Ah! and from gentlefolks!—that I'll swear weren't wrote in print," said Joe.

"I have learnt next to nothing, Joe. You think much of me. It's only that."

"Well, Pip," said Joe, "be it so or be it son't, you must be a common scholar afore you can be a oncommon one, I should hope! The king upon his throne, with his crown upon his ed, can't sit and write his acts of Parliament in print, without having begun, when he were a unpromoted Prince, with the alphabet.—Ah!" added Joe, with a shake of the head that was full of meaning, "and begun at A. too, and worked his way to Z. And I know what that is to do, though I can't say I've exactly done it."

There was some hope in this piece of wisdom, and it rather encouraged me.

"Whether common ones as to callings and earnings," pursued Joe, reflectively, "mightn't be the better of continuing for to keep company with common ones, instead of going out to play with oncommon ones,—which reminds me to hope that there were a flag, perhaps?"

"No, Joe."

"(I'm sorry there weren't a flag, Pip). Whether that might be or mightn't be, is a thing as can't be looked into now, without putting your sister on the Rampage; and that's a thing not to be thought of as being done intentional. Lookee here, Pip, at what is said to you by a true friend. Which this to you the true friend say. If you can't get to be oncommon through going straight, you'll never get to do it through going crooked. So don't tell no more on 'em, Pip, and live well and die happy."

"You are not angry with me, Joe?"

"No, old chap. But bearing in mind that them were which I meantersay of a stunning and outdacious sort,—alluding to them which bordered on weal-cutlets and dog-fighting,—a sincere well-wisher would adwise, Pip, their being dropped into your meditations, when you go up stairs to bed. That's all, old chap, and don't never do it no more."
Have Your Say.
Give your view on "If you can't get to be oncommon through going straight, you'll never get to do it through going crooked" with a rating and help us compile the very best Charles Dickens quotations.
Related.
Click here to see more quotations related to Joe Gargery.
If you like this, we think you might also be interested in these related quotations: