Background.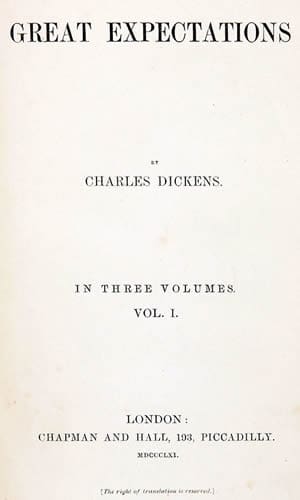 "Her light came along the dark passage like a star" is a quotation from Great Expectations (Chapter 8).
Great Expectations is Charles Dickens's thirteenth novel first published between 1860 and 1861.
Context.

In this quotation the character Pip (as narrator) describes Estella as she walks towards him along a gloomy passageway at the decaying mansion of Miss Havisham, Satis House. Although the reference to 'her light … like a star' is that from a candle, the fondness in which it is described reflects Pip's own instant attraction towards the pretty Estella.
This is an example of imagery Dickens uses in Great Expectations, particularly with contrasting themes of light and darkness.
The reference to 'like a star' is symbolic of Estella's name, which is derived from the the latin word 'stella', meaning star.
Taken from the following passage in Chapter 8 of Great Expectations:
"I am tired," said Miss Havisham. "I want diversion, and I have done with men and women. Play."

I think it will be conceded by my most disputatious reader, that she could hardly have directed an unfortunate boy to do anything in the wide world more difficult to be done under the circumstances.

"I sometimes have sick fancies," she went on, "and I have a sick fancy that I want to see some play. There, there!" with an impatient movement of the fingers of her right hand; "play, play, play!"

For a moment, with the fear of my sister's working me before my eyes, I had a desperate idea of starting round the room in the assumed character of Mr. Pumblechook's chaise-cart. But I felt myself so unequal to the performance that I gave it up, and stood looking at Miss Havisham in what I suppose she took for a dogged manner, inasmuch as she said, when we had taken a good look at each other,—

"Are you sullen and obstinate?"

"No, ma'am, I am very sorry for you, and very sorry I can't play just now. If you complain of me I shall get into trouble with my sister, so I would do it if I could; but it's so new here, and so strange, and so fine,—and melancholy—." I stopped, fearing I might say too much, or had already said it, and we took another look at each other.

Before she spoke again, she turned her eyes from me, and looked at the dress she wore, and at the dressing-table, and finally at herself in the looking-glass.

"So new to him," she muttered, "so old to me; so strange to him, so familiar to me; so melancholy to both of us! Call Estella."

As she was still looking at the reflection of herself, I thought she was still talking to herself, and kept quiet.

"Call Estella," she repeated, flashing a look at me. "You can do that. Call Estella. At the door."

To stand in the dark in a mysterious passage of an unknown house, bawling Estella to a scornful young lady neither visible nor responsive, and feeling it a dreadful liberty so to roar out her name, was almost as bad as playing to order. But she answered at last, and her light came along the dark passage like a star.

Miss Havisham beckoned her to come close, and took up a jewel from the table, and tried its effect upon her fair young bosom and against her pretty brown hair. "Your own, one day, my dear, and you will use it well. Let me see you play cards with this boy."

"With this boy? Why, he is a common labouring boy!"

I thought I overheard Miss Havisham answer,—only it seemed so unlikely,—"Well? You can break his heart."

"What do you play, boy?" asked Estella of myself, with the greatest disdain.

"Nothing but beggar my neighbour, miss."

"Beggar him," said Miss Havisham to Estella. So we sat down to cards.
Have Your Say.
Give your view on "Her light came along the dark passage like a star" with a rating and help us compile the very best Charles Dickens quotations.
Related.
Click here to see more quotes related to the character of Estella.
If you like this, we think you might also be interested in these related quotations: