Background.
Context.
Quote is a description of the ghost of Jacob Marley, the former business partner of Ebenezer Scrooge.
Jacob Marley died seven years prior to the setting of A Christmas Carol, on the same day it is set, Christmas Eve. His ghost visits Scrooge but this quote is used by Dickens to confirm to the reader at the outset of the story that he is definitely dead.
Dickens introduces the character of the ghost of Marley into the story to warn Scrooge of the consequences of his selfish life, for example how Marley says he is condemned to wander the world bound by chains, chains he says he forged in life (suggesting to Scrooge that he has a choice).

Vocabularly.
This is an example of the figurative language Charles Dickens uses in his works, here using a simile to compare the dead Marley to an inanimate object, a door-nail.
Character Profile: Jacob Marley.

In life, Jacob Marley was the business partner of Ebenezer Scrooge. Together, as the firm of Scrooge and Marley, they became successful yet hard-hearted bankers, with seats on the London Stock Exchange. Seven years to the day of his death, on a Christmas Eve, Marley's ghost visits Scrooge. Bound in chains and a tormented, the ghost is doomed to wander the earth forever as punishment for his greed and selfishness when he was alive. Marley visits Scrooge to offer him redemption from his own fate, in the hope of changing his mean ways. He tells Scrooge that three spirits will visit that night.

Source.
Taken from the following passage of Stave 1 (Marley's Ghost) of A Christmas Carol:
Marley was dead: to begin with. There is no doubt whatever about that. The register of his burial was signed by the clergyman, the clerk, the undertaker, and the chief mourner. Scrooge signed it: and Scrooge's name was good upon 'Change, for anything he chose to put his hand to. Old Marley was as dead as a door-nail.

Mind! I don't mean to say that I know, of my own knowledge, what there is particularly dead about a door-nail. I might have been inclined, myself, to regard a coffin-nail as the deadest piece of ironmongery in the trade. But the wisdom of our ancestors is in the simile; and my unhallowed hands shall not disturb it, or the Country's done for. You will therefore permit me to repeat, emphatically, that Marley was as dead as a door-nail.
Have Your Say.
Give your view on "Old Marley was as dead as a door-nail" with a rating and help us compile the very best Charles Dickens quotations.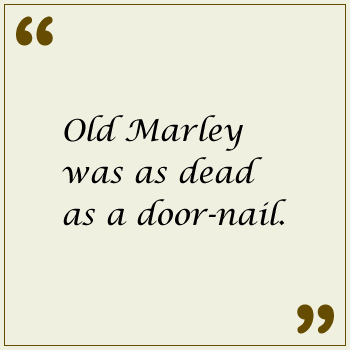 Related.
If you like this, we think you might also be interested in these related quotations:
Discover more.
---