Background.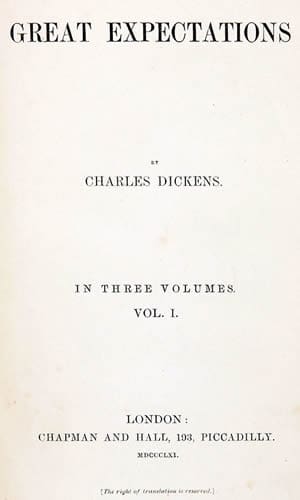 "What would it signify to me, being coarse and common, if nobody had told me so!" is a quotation from Great Expectations (Chapter 17).
Great Expectations is Charles Dickens's thirteenth novel first published between 1860 and 1861.
Context.
This quotation is said by Pip in a conversation with Biddy.
Taken from the following passage in Chapter 17 of Great Expectations:
"Biddy," I exclaimed, impatiently, "I am not at all happy as I am. I am disgusted with my calling and with my life. I have never taken to either, since I was bound. Don't be absurd."

"Was I absurd?" said Biddy, quietly raising her eyebrows; "I am sorry for that; I didn't mean to be. I only want you to do well, and to be comfortable."

"Well, then, understand once for all that I never shall or can be comfortable—or anything but miserable—there, Biddy!—unless I can lead a very different sort of life from the life I lead now."

"That's a pity!" said Biddy, shaking her head with a sorrowful air.

Now, I too had so often thought it a pity, that, in the singular kind of quarrel with myself which I was always carrying on, I was half inclined to shed tears of vexation and distress when Biddy gave utterance to her sentiment and my own. I told her she was right, and I knew it was much to be regretted, but still it was not to be helped.

"If I could have settled down," I said to Biddy, plucking up the short grass within reach, much as I had once upon a time pulled my feelings out of my hair and kicked them into the brewery wall,—"if I could have settled down and been but half as fond of the forge as I was when I was little, I know it would have been much better for me. You and I and Joe would have wanted nothing then, and Joe and I would perhaps have gone partners when I was out of my time, and I might even have grown up to keep company with you, and we might have sat on this very bank on a fine Sunday, quite different people. I should have been good enough for you; shouldn't I, Biddy?"

Biddy sighed as she looked at the ships sailing on, and returned for answer, "Yes; I am not over-particular." It scarcely sounded flattering, but I knew she meant well.

"Instead of that," said I, plucking up more grass and chewing a blade or two, "see how I am going on. Dissatisfied, and uncomfortable, and—what would it signify to me, being coarse and common, if nobody had told me so!"

Biddy turned her face suddenly towards mine, and looked far more attentively at me than she had looked at the sailing ships.

"It was neither a very true nor a very polite thing to say," she remarked, directing her eyes to the ships again. "Who said it?"
Have Your Say.
Give your view on "What would it signify to me, being coarse and common, if nobody had told me so!" with a rating and help us compile the very best Charles Dickens quotations.
Related.
Click here to see more quotations related to Pip.
If you like this, we think you might also be interested in these related quotations: