Background.
Context.
Dickens describes the smell of freshly baked Christmas pudding as it emerges from a large bowl used to cook it in. In a time before washing machines, large bowls (usually made of copper to avoid tarnishing) were used to wash clothes. These 'wash-house copper' bowls were cleaned out and used at Christmas time to cook a large pudding as they were the only pan large enough.
As the lid is opened and the smell from the bowls normal used wafts around the room. Dickens describes the cloth (that would have covered the pudding as it cooked in the saucepan) as smelling like a washing-day, it being soaked in the steam and vapours from the pudding. Dickens then goes on to describe the smell of the pudding as like an eating-house and a pastrycook's next door to each other, with a laundress's next door to that!
The Ghost of Christmas Present, the second of the three spirits that haunt the miser Ebenezer Scrooge, in order to prompt him to repent his selfish ways, has taken Scrooge to see the family of his clerk, Bob Cratchit. There, he witnesses the Cratchit family enjoy a Christmas meal.

Vocabularly.
This is an example of the figurative language Charles Dickens uses in his works, here using a simile to compare the pleasant aroma of a freshly baked Christmas pudding as the lid is opened and the smell wafts around the room.

Bob Cratchit.

The abused, underpaid clerk of Ebenezer Scrooge, Bob Cratchit is a kind but very poor man with a large family and a very sick son, Tim. He works for Scrooge, copying letters in a cold dismal room, so small it is described as a sort of tank. Bring winter time, he is forced to try and stay warm with thick clothes and heat himself by the flame of a candle. He wears tattered clothes as he cannot afford a coat. Cratchit is treated poorly by Scrooge and given a weekly salary that is insufficient to provide his family with a proper Christmas dinner. Despite these circumstances, Bob Cratchit represents the opposite qualities to Scrooge including kindness, generosity and a love of his family members.
Source.
Taken from the following passage in Stave 3 (The Second Of The Three Spirits) of A Christmas Carol:
There never was such a goose. Bob said he didn't believe there ever was such a goose cooked. Its tenderness and flavour, size and cheapness, were the themes of universal admiration. Eked out by apple-sauce and mashed potatoes, it was a sufficient dinner for the whole family; indeed, as Mrs. Cratchit said with great delight (surveying one small atom of a bone upon the dish), they hadn't ate it all at last! Yet every one had had enough, and the youngest Cratchits in particular, were steeped in sage and onion to the eyebrows! But now, the plates being changed by Miss Belinda, Mrs. Cratchit left the room alone—too nervous to bear witnesses—to take the pudding up and bring it in.

Suppose it should not be done enough! Suppose it should break in turning out! Suppose somebody should have got over the wall of the back-yard, and stolen it, while they were merry with the goose—a supposition at which the two young Cratchits became livid! All sorts of horrors were supposed.

Hallo! A great deal of steam! The pudding was out of the copper. A smell like a washing-day! That was the cloth. A smell like an eating-house and a pastrycook's next door to each other, with a laundress's next door to that! That was the pudding! In half a minute Mrs. Cratchit entered—flushed, but smiling proudly—with the pudding, like a speckled cannon-ball, so hard and firm, blazing in half of half-a-quartern of ignited brandy, and bedight with Christmas holly stuck into the top.
Have Your Say.
Give your view on "A smell like a washing-day!" with a rating and help us compile the very best Charles Dickens quotations.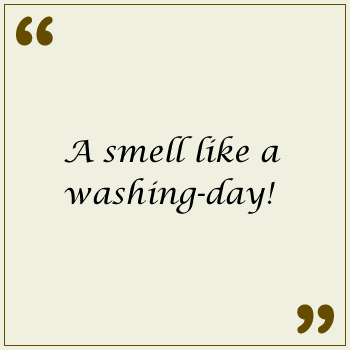 Related.
If you like this, we think you might also be interested in these related quotations:
Discover more.
---