Background.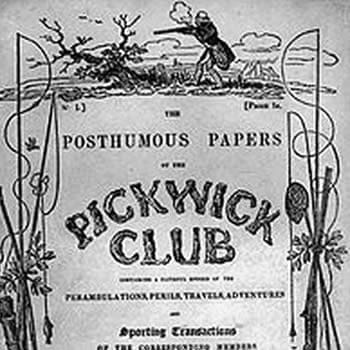 "Tongue—, well that's a wery good thing when it ain't a woman's." is a quotation from The Pickwick Papers (Chapter 19).
The Posthumous Papers of the Pickwick Club, more commonly now known as simply The Pickwick Papers was Charles Dickens's first novel, published between 1836 and 1837.
Context.
Quotation said by the character Sam Weller.
Taken from the following passage of Chapter 19 of The Pickwick Papers:
'Hold on, sir,' said Mr. Weller, invigorated with the prospect of refreshments. 'Out of the vay, young leathers. If you walley my precious life don't upset me, as the gen'l'm'n said to the driver when they was a-carryin' him to Tyburn.' And quickening his pace to a sharp run, Mr. Weller wheeled his master nimbly to the green hill, shot him dexterously out by the very side of the basket, and proceeded to unpack it with the utmost despatch.

'Weal pie,' said Mr. Weller, soliloquising, as he arranged the eatables on the grass. 'Wery good thing is weal pie, when you know the lady as made it, and is quite sure it ain't kittens; and arter all though, where's the odds, when they're so like weal that the wery piemen themselves don't know the difference?'

'Don't they, Sam?' said Mr. Pickwick.

'Not they, sir,' replied Mr. Weller, touching his hat. 'I lodged in the same house vith a pieman once, sir, and a wery nice man he was—reg'lar clever chap, too—make pies out o' anything, he could. "What a number o' cats you keep, Mr. Brooks," says I, when I'd got intimate with him. "Ah," says he, "I do—a good many," says he, "You must be wery fond o' cats," says I. "Other people is," says he, a-winkin' at me; "they ain't in season till the winter though," says he. "Not in season!" says I. "No," says he, "fruits is in, cats is out." "Why, what do you mean?" says I. "Mean!" says he. "That I'll never be a party to the combination o' the butchers, to keep up the price o' meat," says he. "Mr. Weller," says he, a-squeezing my hand wery hard, and vispering in my ear—"don't mention this here agin—but it's the seasonin' as does it. They're all made o' them noble animals," says he, a-pointin' to a wery nice little tabby kitten, "and I seasons 'em for beefsteak, weal or kidney, 'cording to the demand. And more than that," says he, "I can make a weal a beef-steak, or a beef-steak a kidney, or any one on 'em a mutton, at a minute's notice, just as the market changes, and appetites wary!"'

'He must have been a very ingenious young man, that, Sam,' said Mr. Pickwick, with a slight shudder.

'Just was, sir,' replied Mr. Weller, continuing his occupation of emptying the basket, 'and the pies was beautiful. Tongue—, well that's a wery good thing when it ain't a woman's. Bread—knuckle o' ham, reg'lar picter—cold beef in slices, wery good. What's in them stone jars, young touch-and-go?'

'Beer in this one,' replied the boy, taking from his shoulder a couple of large stone bottles, fastened together by a leathern strap—'cold punch in t'other.'
Have Your Say.
Give your view on "Tongue—, well that's a wery good thing when it ain't a woman's." with a rating and help us compile the very best Charles Dickens quotations.
Related.
If you like this, we think you might also be interested in these related quotations: