Background.
Nicholas Nickleby; or, The Life and Adventures of Nicholas Nickleby was Charles Dickens's third novel, published monthly between April 1838 and October 1839. Dickens largely wrote the work whilst living at his London residence in Doughty Street. The novel centres on the life and adventures of Nicholas Nickleby, a young man who must support his mother and sister after his father dies.
Context.
This quotation is a description of Newman Noggs, assistant to Ralph Nickleby. We first meet Noggs in Chapter 2 of Nicholas Nickleby, when Nicholas Nickleby sees him at the offices of his uncle at Golden Square in the Soho area of London. Noggs was a gentleman that has fallen on hard times through bad investments and now middle-aged, is reduced to working as a clerk and genral assistant with a fondness for alcohol.
Like many characters in Dickens' novels, Noggs is memorable for his strange appearance, including a cadaverous face containing two google eyes, one of which was a fixture, meaning it was a false glass eye. Newman is one of many characters in Nicholas Nickleby who is deformed in some way.

Newman Noggs.
In the novel Nicholas Nickleby, Newman Noggs is the middle-aged clerk to the self-centered and controlling businessman, Ralph Nickleby. He works from offices in Golden Square in the Soho area of London. Noggs is a fallen gentleman, ruined by bad investments and now a nervous alcoholic character. In appearance his cadaverous face contains a red nose and two google eyes, one of which is false. He has a habit for cracking his knuckles. Despite his apparent flaws, Noggs has a strong sense of justice, and proves to a vital ally for Nicholas Nickleby, hero of the novel, and his sister Kate in helping them overcome their uncle's scheming.
Source.
Taken from the following passage in Chapter 2 (Of Mr. Ralph Nickleby, and his Establishments, and his Undertakings, and of a great Joint Stock Company of vast national Importance) of Nicholas Nickleby:
It was into a place of this kind that Mr. Ralph Nickleby gazed, as he sat with his hands in his pockets looking out of the window. He had fixed his eyes upon a distorted fir tree, planted by some former tenant in a tub that had once been green, and left there, years before, to rot away piecemeal. There was nothing very inviting in the object, but Mr. Nickleby was wrapt in a brown study, and sat contemplating it with far greater attention than, in a more conscious mood, he would have deigned to bestow upon the rarest exotic. At length, his eyes wandered to a little dirty window on the left, through which the face of the clerk was dimly visible; that worthy chancing to look up, he beckoned him to attend.

In obedience to this summons the clerk got off the high stool (to which he had communicated a high polish by countless gettings off and on), and presented himself in Mr. Nickleby's room. He was a tall man of middle age, with two goggle eyes whereof one was a fixture, a rubicund nose, a cadaverous face, and a suit of clothes (if the term be allowable when they suited him not at all) much the worse for wear, very much too small, and placed upon such a short allowance of buttons that it was marvellous how he contrived to keep them on.
Have Your Say.
Give your view on "Two goggle eyes whereof one was a fixture" with a rating and help us compile the very best Charles Dickens quotations.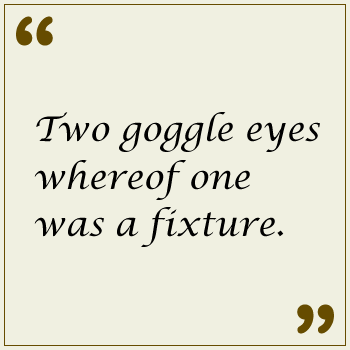 Related.
If you like this, we think you might also be interested in these related quotations:
Discover more.
---