Background.
Context.
Quotation said by the character Belle, who is talking to Ebenezer Scrooge.
In his youth, Scrooge was engaged to Belle, who broke off the relationship as Ebenezer became a meaner individual. In Stave 2 of A Christmas Carol, the Ghost of Christmas Past has transported Scrooge to relive this scene, and others from his youth. In this quotation we see the upset Bella, although breaking up with Scrooge, describe how she still has love for the person he used to be.

Character Profile: Belle.
Belle is a minor character in this novella A Christmas Carol, only appearing in the visions that are showed to Ebenezer Scrooge by the Ghost of Christmas Past. Scrooge was engaged to be married to Belle in his youth, but when his pursuit of money consumed him, Belle ended the relationship.
Source.
Taken from the following passage in Stave 2 (The First Of The Three Spirits) of A Christmas Carol:
I would gladly think otherwise if I could," she answered, "Heaven knows! When I have learned a Truth like this, I know how strong and irresistible it must be. But if you were free to-day, to-morrow, yesterday, can even I believe that you would choose a dowerless girl—you who, in your very confidence with her, weigh everything by Gain: or, choosing her, if for a moment you were false enough to your one guiding principle to do so, do I not know that your repentance and regret would surely follow? I do; and I release you. With a full heart, for the love of him you once were.
Have Your Say.
Give your view on "With a full heart, for the love of him you once were" with a rating and help us compile the very best Charles Dickens quotations.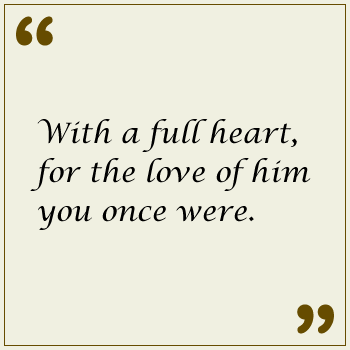 Related.
If you like this, we think you might also be interested in these related quotations:
Discover more.
---